MOUNT ETNA AND TAORMINA TOUR FROM MESSINA-CATANIA-TAORMINA PORTS:
Suggested Tour:
Our driver-guide will pick you up at the port at 08.00 a.m. to drive you to the highest and active volcano of Europe. We will drive up to 2.000 meters from where we will walk together to visit the "Silvestri" craters, the latest new lava flows and craters from 2001/2003. On the way, we will visit a local family farm where it is possible to taste local Etna wine, a selection of different types of honey (orange, lemon, eucalyptus, strawberry...), almond pastries, olives, extra virgin olive oil.
Driving down from the Volcano through a wonderful pine tree forest, we will arrive to Taormina. Will visit the Greek Theatre, a stroll to the main street "Corso Umberto" with several art and designer shops, Baroque churches and beautiful historical Buildings. You can have an excellent lunch (not incld) at one of the local Sicilian best restaurants suggested by your driver - guide.
After lunch and shopping you will be driven back to Messina Port and dropped off in front of the ship by 5 pm.
Rate per passenger :
Euro 300 rate per person (up to 2 people);

Euro 217 rate per person (up to 3 people);

Euro 162 rate per person (up to 4 people);

Euro 130 rate per person (up to 5 people);

Euro 117 rate per person (up to 6 people);

Euro 100 rate per person (up to 7 people);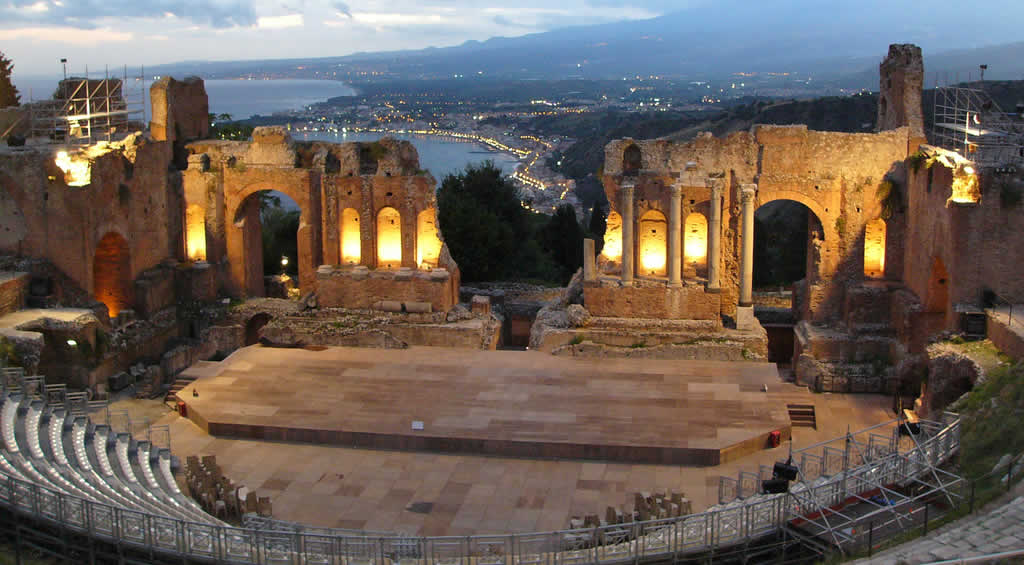 Taormina - "The Greek Theatre"
THE "GODFATHER" AND TAORMINA TOUR FROM MESSINA PORT:
Suggested Tour:
Leaving the port we will reach the charming town of Savoca. Savoca is not a tourist town, it is a simple every day "local" town set on the hillside of the foothills of the Peloritani Mountains. This is where Al Pacino and Cast shot the "GodFather" Film. Following their footsteps and visiting the places that were so often shown throughout the movie will bring you back many memories. While in town "a must" is the stop for a Lemon Granita at the famous bar "VITELLI" , one of Coppola's favorite spots, showed many times throughout the film.
From Savoca we will drive to Forza d'Agrò which is without a doubt one of the best examples of a typical village of the Province of Messina which still preserves its medieval street layout and on every side of the town you have the most incredible views. In this town you will find local traditions, culture, history and art.
We will drive you then to the historical centre of Taormina and under our tip, you will have your own free time to explore the village, stroll the mean streets and narrow ways with picturesque corners and nice shops. We can suggest a good local place for lunch (not incld). You will have the time to visit the Greek Theatre and the most important highlights of Taormina. After lunch, will drive you back to Messina Port to drop you off in front of the ship again.
Rate per passenger :
Euro 300 rate per person (up to 2 people);

Euro 217 rate per person (up to 3 people);

Euro 162 rate per person (up to 4 people);

Euro 130 rate per person (up to 5 people);

Euro 117 rate per person (up to 6 people);

Euro 100 rate per person (up to 7 people);